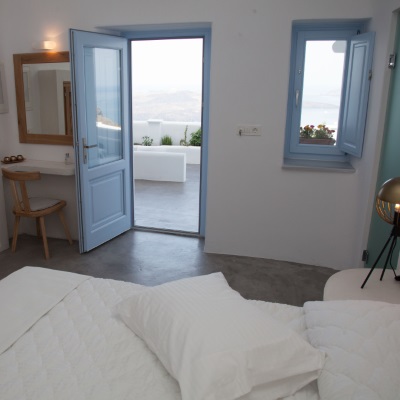 26,00 sq.m open plan style bedroom offering a Queen Bed and sitting area with table, decorated in a minimalist local style. Bathroom in traditional cave style, with designer amenities. This room boasts a private balcony with private jacuzzi, panoramic views of caldera and fantastic sunset over the old Fira port and volcano.
Room Size: 26 square metres
Bed Size (s): 1 Large (Queen size)
Low
Middle
High
15/05 to 15/06
10/10 to 30/11
16/06 to 01/07
16/09 to 09/10
01/07 to 15/09
Loucas standard double
200,00 €
240,00 €
280,00 €
Room's Facilities & Features:
Take a look at the rich list of Facilities and Features of Loucas superior double:
Up to 2 guests
Private terrace with sunbeds and sitting area
Private outdoors jacuzzi
Caldera/ Sea & Sunset view

26,00 sq.m open plan style bedroom and sitting area.
Queen size bed
Bathroom in cave style
Bathroom with shower
Wifi internet access
Private outdoor jacuzzi, Air Conditioned, Mini Bar, Flat-screen satelite TV, Coffee / Tea Maker, Hair Dryer, TV, Bathrobes, Slippers, Bath amenities, Breakfast a la carte served in room balcony. Baby cod if requested.